Report to the Investigation Team in Reboldeaux (H7).
Return to Idge Imbrulia.
Talk to Detective Gertrude in City of Auch (F9). You will be taken to Reboldeaux.

Talk to Idge, then walk behind her near the shop to find 'many footprints'.
Talk to Claude, then defeat him.
Talk to Claude once more and obtain (the key is behind Claude near the building) Template:Cottage Key.
Talk to Item Merchant.

Report to the Investigation Team again.
Find "a rock" at Tetra Grand Corridor (J8).

Defeat the thieves behind the rock, then destroy the box.

Return to Idge Imbrulia.
Walkthrough
Edit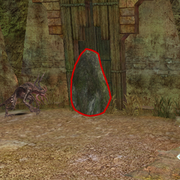 This quest is long-winded but pretty simple. The rock in Tetra Grand Corridor is just before the entrance to the Forgotten Area and looks like shown in the picture.
Dialogue
Edit
Missing.
Ad blocker interference detected!
Wikia is a free-to-use site that makes money from advertising. We have a modified experience for viewers using ad blockers

Wikia is not accessible if you've made further modifications. Remove the custom ad blocker rule(s) and the page will load as expected.