This article is a stub. You can help by adding to it (or other stubs). When this article contains sufficient detail, this stub marker may be removed
.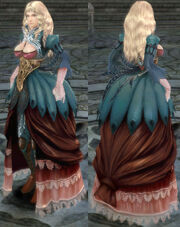 A elementalist uniform designed by [Andre Janzur], the most fantastic gentleman of all. It can be used for a different purpose later.
Level
Veteran
Class
Elementalist
Type
Costume (Body)
Found
Bellem Box
Trade
Yes
Vendor
 ???
Crafting
Edit
See Also
Edit

Back to List of Stock Costumes
Ad blocker interference detected!
Wikia is a free-to-use site that makes money from advertising. We have a modified experience for viewers using ad blockers

Wikia is not accessible if you've made further modifications. Remove the custom ad blocker rule(s) and the page will load as expected.