The Cleansing of Al Quelt Moreza
Basic Info
Automatically receive this quest upon completing previous quest
Go to Al Quelt Moreza
Take three hunt missions from the Pioneering Memorial
Hunt the required amount of monsters
Return to the memorial to receive 3 x Seal of the Pioneer Level 1
Return to Sir Lyndon for your reward
Walkthrough
Edit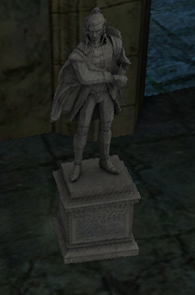 In order to complete this quest, you simply need to complete the hunt missions given at the memorial statue in
Al Quelt Moreza
. To take these missions, simply click on the statue and confirm that you wish to take part in the hunts. You need three seals to complete this mission, and so you need to complete three hunts. It does not matter which area of Al Quelt Moreza you do the hunts in.
As a further boost to your EXP Card earnings, why not go to the Reboldeaux Employment Office before you leave and take their hunt missions too? You can complete all the missions from the Clerk #1 at the same time.
Defeat the Shadow of Dios Lantem
Ad blocker interference detected!
Wikia is a free-to-use site that makes money from advertising. We have a modified experience for viewers using ad blockers

Wikia is not accessible if you've made further modifications. Remove the custom ad blocker rule(s) and the page will load as expected.