Stonepit Tent

Basic Info
Talk to Angie and agree to help her
Go to King's Garden and hunt Lazim-Iams until you collect 50 Red Wings (Quest Item)
Return to Angie to collect your reward
Walkthrough
Edit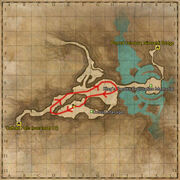 As the Lazim-Iams are a static monster, it can take a long time to hunt 50 wings. If you run in a circle around Kings Garden however, it can speed things up. Follow the path marked on the map and kill every Lazim-Iam you come across, including the Elite Spawns (or else the lower levels won't respawn as quickly) and the quest should be much quicker to complete.
Pocket Picked Angie
Ad blocker interference detected!
Wikia is a free-to-use site that makes money from advertising. We have a modified experience for viewers using ad blockers

Wikia is not accessible if you've made further modifications. Remove the custom ad blocker rule(s) and the page will load as expected.