Reboldeaux
Basic Info
Information
Edit
From gangs of fresh pioneers to the swarms of screaming Andre Janzur fanatics, something new can always be found in Reboldeaux. For new players, Reboldeaux offers an ideal starting town. The neighbouring maps offer low level monsters to level up on, and the NPCs here and in surrounding areas offer quests and equipment appropriate for newer characters.
Game Lore
Edit
Reboldeaux was the second city to be built in the New World. Its initial purpose was to encourage the growth of a vibrant pioneering centre. Most of the world's administration business is conducted here, mostly because the Office of Pioneering Support is located here.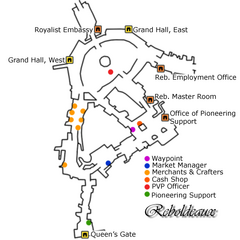 Merchants & Crafters
Edit
The table below displays immediate information about each crafter and merchant in Reboldeaux. For more detailed information about the items they stock and what they are able to craft, see their respective NPC pages.
All Weapons and Armor stocked by Reboldeaux Merchants ranges from level 1 to level 36.
Other NPCs
Edit

Back to Locations
Ad blocker interference detected!
Wikia is a free-to-use site that makes money from advertising. We have a modified experience for viewers using ad blockers

Wikia is not accessible if you've made further modifications. Remove the custom ad blocker rule(s) and the page will load as expected.