This article is a stub. You can help by adding to it (or other stubs). When this article contains sufficient detail, this stub marker may be removed
.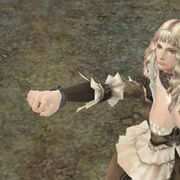 Bracelets
Edit
Bracelets are the weapons of choice for elementalists. Their power depends on the element that they are aligned with, whether Fire, Lightning or Ice. Each element has its own advantages and disadvantages, and also its own stances. In later levels, elementalists can equip two bracelets, and use more powerful stances.
Advantages:
Area of Effect attack Fireball at an early Stance level
There is always a chance of inflicting the status effect Burning to enemies
Spells have a knockback effect, often cancelling an opponent's move
Disadvantages:
Support spells leave something to be desired
Relatively weak damage output, but mostly useful for PvE
Advantages:
Area of Effect attack at an early Stance level
High damage output
Good support skills
Has a chance of slowing down opponents
Disadvantages:
Area of Effect attack targets less opponents than Fire skill.
Lightning
Edit
Advantages:
Area of Effect attack deals very high damage
Can inflict shock
Better support buffs than other elements
Template:Shockwave will deal up to 15 second stun, making for a good support skill
Disadvantages:
Chance that attacks will do very little damage
Ad blocker interference detected!
Wikia is a free-to-use site that makes money from advertising. We have a modified experience for viewers using ad blockers

Wikia is not accessible if you've made further modifications. Remove the custom ad blocker rule(s) and the page will load as expected.