Lazim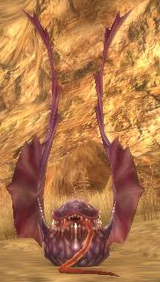 Details
Lazim's spawn in groups of 3 with one Elite Lazim and 2 General Lazim' They can be found in Tetra Hill and Kings Garden
Abilities
Edit
Lazim usually attacks with a fireball, and when close they are capable of using a Spinning Attack where they spin their "leafs" to harm your characters.
Known Skills:
Lazim respawn quickly and are quite easy to kill although large groups might be overwhelming.
Ad blocker interference detected!
Wikia is a free-to-use site that makes money from advertising. We have a modified experience for viewers using ad blockers

Wikia is not accessible if you've made further modifications. Remove the custom ad blocker rule(s) and the page will load as expected.