The Enchantment Chip Exchanger in the City of Auch allows you to transform items into Enchantment Chips or Enchantment Chips into better version of them.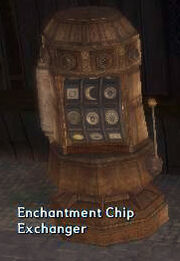 This exchanger is very nice once you know perfectly how to use it. Firstly, make sure the items and/or chips you input are all of the same level. If you use any item during the process, make sure they have any options (either blue or yellow; orange options seem to work also). Now, you must remember one thing: since all the items/chips are of the same level, they will output a chip one level higher (i.e. I put three Lv 88 Chips, a Lv 92 Enchantment Chip will be made. The interesting thing with this exchanger is that it also work with items.
Also, remember that you can always break items (by upgrading them) to get the same level Enchantment Chips. This said, Lv 92 items and Lv 100 items shouldn't be used in this exchanger, but broke to get the corresponding chip, as you will get more Vis in the end.
The items used have to be over or equals to level 32.
Ad blocker interference detected!
Wikia is a free-to-use site that makes money from advertising. We have a modified experience for viewers using ad blockers

Wikia is not accessible if you've made further modifications. Remove the custom ad blocker rule(s) and the page will load as expected.