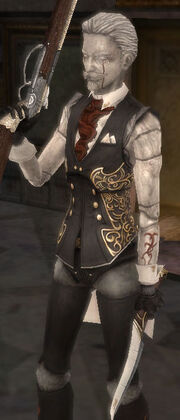 Services
Edit
Cayenne will give you unique equipment in exchange for a specific weapon and various items found in Dr. Torsche's Mansion. The required weapons can all be purchased from merchants in The Port of Coimbra.

Most equipment requires the following (Cayenne Slayer and Cayenne Rifle require double the amount):

Caution: You are only allowed to make each item once.
Ad blocker interference detected!
Wikia is a free-to-use site that makes money from advertising. We have a modified experience for viewers using ad blockers

Wikia is not accessible if you've made further modifications. Remove the custom ad blocker rule(s) and the page will load as expected.