Al Quelt Moreza, Parsonage
Basic Info
Information
Edit
The Siegmunds which spawn in specific rooms in this area all drop Area Voucher s, which can be traded at the Tombstone in the first room of the Parsonage for random item rewards.
The Pioneering Memorial in this area rewards its quests with Seal of the Pioneer Level 1.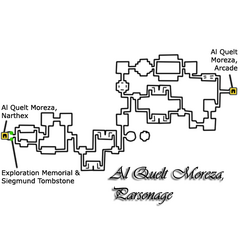 Common Drops
Edit
One entry may refer to more than one monster. For example, Heretics and Elite Heretics both spawn here, but they are only listed under Heretic.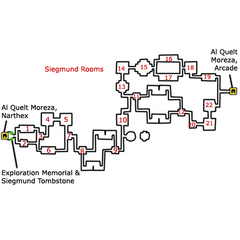 Pioneering Memorial
Edit
The Memorial here rewards each hunt with:
| Monster | Level | Amount |
| --- | --- | --- |
| Vedanobah Warrior | | |
| Zealot | 11 | 60 |
| Heretic | | 20 |
| Rusty Fanatic | 12 | 30 |
| Rusty Heretic | 11 | 30 |
Siegmund Hunt
Edit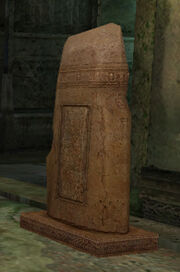 The Tombstone found in the first room of the Parsonage will reward you if you manage to collect all the
Area Voucher
s dropped by the
Siegmunds
that roam this dungeon. There are Twenty-Two Siegmund spawns in this dungeon, all shown on the map above. Each voucher is numbered according to the room the Siegmund spawned from. Bear in mind that when you pick up the voucher for one room, you can only hold one of them in your inventory. This prevents stockpiling multiple vouchers from the same room.
Rewards:
For each set of 22 Area Vouchers, the Tombstone will randomly award one of the following:
Note: The Siegmund that drops the area-8 voucher is not often in his room. Go check the two areas between area 8 and 9, and you should find him.
Ad blocker interference detected!
Wikia is a free-to-use site that makes money from advertising. We have a modified experience for viewers using ad blockers

Wikia is not accessible if you've made further modifications. Remove the custom ad blocker rule(s) and the page will load as expected.